Description
The Strymon BigSky Multidimensional Reverb multi-effects pedal offers a wide assortment of reverb effects currently on the market. Twelve different types of reverb are available with a twist of a knob, and you can deeply edit the effects and store them in the 300 onboard preset slots. And an incredibly powerful SHARC DSP powers the pedal for the best sound quality possible. The Strymon BigSky Multidimensional reverb pedal is powerful enough to be the last reverb pedal you'll ever need.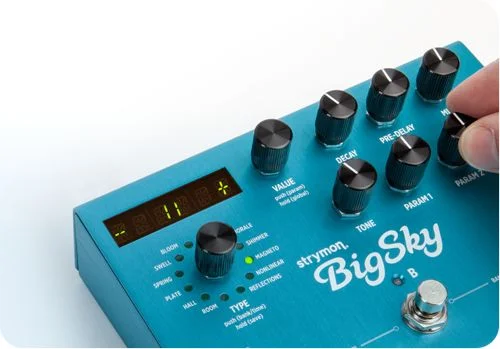 Deep editing capabilities
The reverbs in the BigSky are far from just re-creations of vintage tones. While the sounds in the unit are based around many iconic 'verbs, Strymon added enough tone-shaping features to ensure you have full control over getting the sound you need for your application. The two parameter knobs on the front plate can be individually assigned to control various qualities per preset. And there's enough I/O on the back to run the BigSky in stereo, control it via MIDI, and even plug in an expression pedal for real-time parameter control.
Powerful I/O
If the sound quality of the Big Sky Reverb were all it offered, that would be plenty. But there is much more under the hood of this powerful ambience device. Around back you'll find a wide array of inputs and outputs to integrate it flawlessly into your rig, no matter how involved it may be. A set of stereo ins and outs is easy to navigate. An expression pedal input allows you to control various parameters on the fly with an optional expression pedal. And the MIDI ports make instantly accessing your favorite sounds a breeze.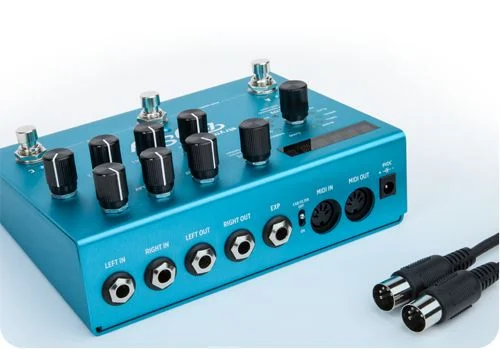 Strymon: a philosophy of quality
Strymon pedals are quickly becoming an industry standard in professional-quality effects. They're dedicated to offering exceptional customer service and, in their own words, making "gear that sounds better than anything you've ever heard." This California-based company uses only the highest-quality components and powerful processors in their pedals. And each design offers more tweakable parameters than meets the eye for fine-tuning your tone. This construction and sound quality is the reason We are impressed with Strymon, and why you find their processors on the pedalboards of professional musicians around the world.






Strymon BigSky Multidimensional Reverb Pedal Features:
Reverb multi-effects pedal
12 reverb types available: hall, shimmer, spring, and more
Powered by a powerful SHARC DSP for top-quality audio
300 customizable presets
MIDI controllable
Expression pedal input
Technical Specs
Reverb

Digital

2 x 1/4" stereo, Expression pedal

2 x 1/4" stereo

In/Out

Yes

True bypass

9V center-negative DC 300mA

6.75"

5.1"