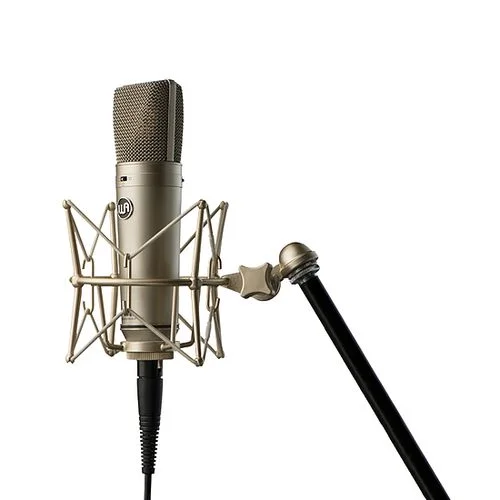 Every studio needs at least one pair of high-quality large-diaphragm condenser mics, and the Warm Audio WA-87 is designed after a legendary one. You can use the WA-87 on anything — with world-class results. It makes vocals pop. It makes toms sound gargantuan. It's a must-have for adding a bit of room to complement a close dynamic or ribbon on a guitar cabinet. It's an ideal choice for vibraphone, marimba, strings, and woodwinds. We've even used it on kick drums (the 10dB pad comes in handy here)! Its highpass filter is useful for killing low-end mud and rumble, and its three polar patterns — cardioid, omni, and figure-8 — further increase the WA-87's impressive versatility.

Quality components make the Warm difference
Warm Audio doesn't cut corners on components, but they do order parts and build in quantity, which keeps costs down and delivers amazing value. The WA-87 is built with premium all-discrete components such as Fairchild FETs (field effect transistors); polystyrene, tantalum, and WIMA film capacitors; and a genuine USA-made Cinemag output transformer. The mic also features a custom Lens Kondensator reproduction of the renowned K87 dual-diaphragm/dual-backplate capsule used in the earlier '87s. Premium parts and meticulous design deliver a superior-sounding microphone — one that doesn't cost a fortune. Give the WA-87 an audition in your studio: you'll hear what we're talking about.
Warm Audio WA-87 Large-diaphragm Condenser Microphone Features:
Designed after a classic, studio-standard large-diaphragm FET condenser mic

3 switchable polar patterns: cardioid, omnidirectional, and figure-8

LK-87-B-50V capsule reproduction of the vintage dual-backplate K87

Diaphragm: 6 micron, 1" gold-sputtered membrane

20Hz-20kHz frequency response

SPL (measured at .5% THD): 130dB (pad engaged), 120dB (pad disengaged)

10dB pad; 80Hz highpass filter

Genuine USA-made Cinemag output transformer

24k gold plated, 3 pin XLR (150 ohms)

15dB self-noise, 80dB signal-to-noise ratio

Includes shockmount, hard-mount, and wooden storage box